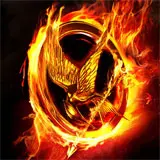 The Hunger Games trailer debuted this morning and offers the first glimpse into the world of Suzanne Collins' bestselling young adult book that doesn't involve Jennifer Lawrence running through the woods.
This trailer speaks primarily to the audience that hasn't read The Hunger Games or is familiar with the story. It moves forward chronologically as Katniss Everdeen (Jennifer Lawrence) volunteers to represent her District instead of her sister, who was picked via a random draw at the bleak Reaping. Along with fellow unlucky Tribute Peeta (Josh Hutcherson), Katniss travels to the Capitol of Panem where she will train and participate in The Hunger Games, while her friend Gale Hawthorne (Liam Hemsworth) worries about her safety.
The point of The Hunger Games is for two Tributes, one teenage boy and girl from each of the twelve Districts, to fight to the death in an arena as a means of intimidation and entertainment provided by the government. It's a grim and deadly plotline that is addressed in the trailer, but violence is absent when the trailer ends just as the Games officially begin.
In other words, the previously released teaser trailer with Katniss dodging massive fireballs is still all that has been shown from the film's latter half once the Games are underway.
For fans of the book, several characters make their on-screen debuts, some with over-the-top looks. They include games maker Seneca Crane (Wes Bentley), escort Effie Trinket (Elizabeth Banks), President Snow (Donald Sutherland), former contestant and mentor Haymitch Abernathy (Woody Harrelson), Katniss' stylist Cinna (Lenny Kravitz), and Katniss' sister Primrose (Willow Shields).
The Hunger Games opens in theaters everywhere on March 23.
View The Hunger Games trailer in high definition at Apple.