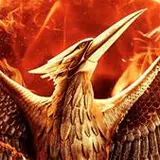 Hot off the heels of The Hunger Games: Catching Fire lighting up the 2013 box office and out-earning every other film in North America, Lionsgate has turned up the heat on the second Hunger Games sequel by debuting the first theatrical one-sheet movie poster for The Hunger Games: Mockingjay Part 1.
As with the first teaser posters for the previous two films in the four-film saga, Mockingjay Part 1 features the iconic Mockingjay pin seen in the film, only this version has spread its wings and the flames with them. It will probably be several more months until Jennifer Lawrence as Katniss Everdeen shows up in any promotional materials for the film.
The Hunger Games: Mockingjay Part 1 covers roughly the first half of the Mockingjay novel by author Suzanne Collins. It will be released theatrically on November 21, 2014, while Part 2 will arrive in theaters roughly a year later.
Source: Facebook