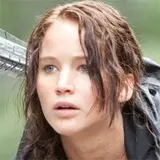 Our first look at Lionsgate's The Hunger Games is coming this weekend during the MTV Video Music Awards. Surprisingly it won't be in the form of a trailer.
Jennifer Lawrence, who stars as Katniss Everdeen in the film based on Suzanne Collins' popular young adult book series, will take the stage this Sunday and introduce the film to the world via a clip. Whether the clip is dialogue or action based we don't know yet, so let the speculation begin.
The Hunger Games is currently in its last legs of production in North Carolina. Gary Ross is directing the first of four films that will star, in addition to Jennifer Lawrence, Josh Hutcherson, Liam Hemsworth and Elizabeth Banks.
As for the first The Hunger Games trailer, your guess is as good as mine. I'd think we'd see at least a teaser start making the rounds within the next couple months.
Look for The Hunger Games in theaters on March 23, 2012. The second film in the series, Catching Fire, arrives in theaters on November 22, 2013. Production on that film is expected to get underway next year. A release date for the third and fourth films has yet to be set.