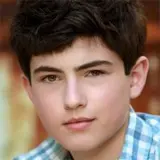 Casting for The Hunger Games movie continues to move at a brisk pace as Lionsgate has found their District 3 Tributes in a pair of young newcomers.
Assuming the roles of "Tribute Boy" and "Tribute Girl" in District 3 are Ian Nelsen and Kalia Prescott, respectively. Kalia appeared in a background role in Where the Wild Things Are as well as a stunt double to Isabel Lucas in the as-of-yet Red Dawn remake. She also did some stunt work for The Santa Clause 3: The Escape Clause back in 2006 and has appeared in some television commercials, including the recent Chevy Camaro Transformers 3 spot.
Ian Nelson's resume at IMDB.com is currently blank but will get a nice first entry in the form of The Hunger Games.
Filming on The Hunger Games under the direction of Gary Ross is expected to commence within the next few weeks in North Carolina. The film will be released theatrically by Lionsgate on March 23, 2012.