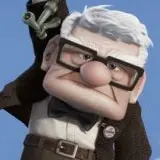 Early box office estimates for this past weekend indicate Disney and Pixar's Up has nudged Warner's vulgar comedy The Hangover for the top box office crown.
Up, in its second week of release and riding superb reviews, mustered $44.244 million to bring its domestic total to an impressive $137.3 million.
The Hangover, who had already impressed with the second highest Friday gross ever for an R-rated comedy, pulled in $43.275 million. That gives it the third-best opener for an R-Rated comedy behind Sex and the City.
Universal had hoped Land of the Lost would be battling for the top box office spot. Poor reviews dealt a fatal blow to Will Ferrell's latest as it managed a mere $19.5 million opening, far lower than the $30 million estimates. It now unofficially claims the dubious distinction of being the summer's biggest flop thus far.
The other newcomer, My Life in Ruins, crumbled to a paltry $3.2 million opening. Poor reviews likely held it back as well.
The complete box office results for June 5-7 are as follows:
1. Up: $44.244m
2. The Hangover: $43.275m
3. Land of the Lost: $19.524m
4. Night at the Museum: Battle of the Smithsonian: $14.65m
5. Star Trek: $8.4m
6. Terminator Salvation: $8.175m
7. Drag Me to Hell: $7.342m
8. Angels & Demons: $6.5m
9. My Life in Ruins: $3.2m
10. Dance Flick: $2m
Next weekend sees Eddie Murphy tries to be funny again in the family comedy Imagine That squares off against the Denzel Washington and John Travolta hijacking thriller The Taking of Pelham 123. My money is on Up to come out on top yet again.