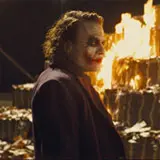 The final weekend box office tally for Christopher Nolan's The Dark Knight is in and stands at $158.3 million, almost $3 million more than yesterday's $155.5 million estimate.
The sequel behemoth didn't need the extra dough to own a myriad of box office records. The new number extends its lead over the former weekend box office champ Spider-Man 3 who enjoyed a fat $151.1 million take.
Variety.com is reporting Warner Brothers is estimating The Dark Knight could rake in as much as $220 million by the end of its first week in theaters. For reference, that total is more than the *entire* domestic box office gross of Batman Begins at $205 million.
The Dark Knight is sure to set more box office records as it continues to steamroll over the competition. You can check out our relatively spoiler-free review right here.