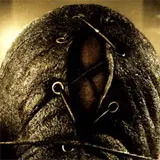 MTV Movies Blog has unveiled the final one-sheet poster for Freestyle Releasing's The Collector.
The writers behind Saw IV, V and VI are the same crew behind this horror flick about a crazed masked "Collector" who traps an ex-con inside his own personal house of horrors. Freestyle describes the traps in the home as "the Spanish Inquisition as imagined by Rube Goldberg."
The Collector will begin gathering moviegoers on July 31.
For handyman and ex-con Arkin, a quiet home and a family on vacation is an "opportunity." For inside the house lies a jeweler's safe, and inside the safe is a gem – his only hope for repaying a debt to his ex-wife and keeping what's left of his family intact. Unfortunately for Arkin, inside the house is also a box containing the latest addition to a collection catalogued in blood, bone and tears. As the seconds tick down to midnight, Arkin becomes a reluctant hero trapped by a masked "Collector" in a maze of lethal invention.