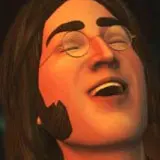 I had been waiting to publish this article until given the opportunity to play through The Beatles: Rock Band story mode from start to finish and verify, with my own eyes, the final unlockable song. Put two and two together and here I am to confirm what that song is.
In total there are 45 original The Beatles tracks in The Beatles: Rock Band, playable in story mode at The Cavern Club, Ed Sullivan Theater, Shea Stadium, Budokan, Abbey Road Studios and the unannounced concert atop Apple's headquarters which would be the band's last public appearance.
Here are all 45 songs that comprise the complete set list broken down by venue in chronological order. The songs are not in the same order they appear in the game within each venue, however.
If you intend to unlock the final song and learn what it is yourself then do not scroll to the bottom of this track list.
Cavern Club
I Saw Her Standing There
Twist and Shout
Do You Want to Know a Secret
Boys
Ed Sullivan Theater:
I Want To Hold Your Hand
Can't Buy Me Love
A Hard Day's Night
I Wanna Be Your Man
Shea Stadium:
I Feel Fine
I'm Looking Through You
Eight Days a Week
If I Needed Someone
Ticket to Ride
Budokan:
Drive My Car
Day Tripper
Paperback Writer
Taxman
And Your Bird Can Sing
Abbey Road Dreamscapes:
Yellow Submarine
Sgt. Pepper's Lonely Hearts Club Band/With a Little Help from My Friends
Lucy in the Sky With Diamonds
Getting Better
Within You Without You/Tomorrow Never Knows
Good Morning
I Am The Walrus
Hello, Goodbye
Hey Bulldog
Back in the USSR
Dear Prudence
While My Guitar Gently Weeps
Helter Skelter
Revolution
Birthday
Octopus's Garden
Something
Come Together
Here Comes the Sun
Rooftop Concert
Dig a Pony
Get Back
Don't Let Me Down
I've Got a Feeling
I Want You (She's So Heavy)
I Me Mine
Encore
Additional songs are being released as downloadable content (DLC) with three complete albums and one individual song announced thus far. Look for an update on those in the near future.
The Beatles: Rock Band arrives in stores on September 9 for Xbox 360, PS3 and Nintendo Wii. Our full review will be published between now and then.