Marvel's Iron Man 2 is coming up on its release. Thor is well into production. The First Avenger: Captain America should have its lead cast any day. Things are good in Marvel movie land.
But what about The Avengers, the film that will pull Marvel's movie characters into a singular story? Is it too early to be thinking about what The Avengers might hold with its release date more than two years off?
Not so according to a tweet made by Marvel Comics Editor-in-Chief Joe Quesada. If correctly interpreted, a first draft for The Avengers is in the can and being read right now. Just think, Joe right now knows whether The Incredible Hulk will appear alongside or against The Black Widow, Iron Man, Thor, Captain America and whoever else Marvel decides to build into the penultimate Marvel movie. His latest tweet, "It's official, I have the greatest job in the world," is hard to argue.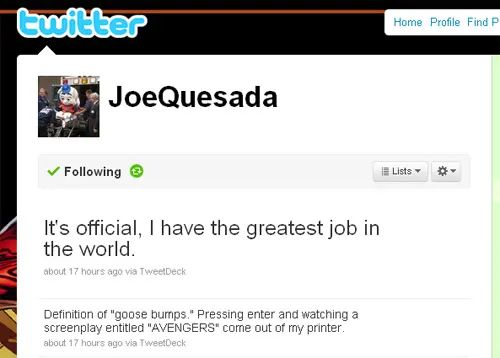 The Avengers project is ambitious to say the least as the script will have to strike a delicate balance between numerous star characters, a coherent plot and incredible action that equals or tops the other Marvel films. Whomever is chosen to direct will have their hands full, that's for certain.