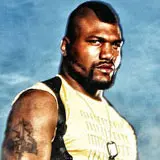 The first trailer for Joe Carnahan's big screen adaptation of The A-Team is arriving in theaters starting this weekend. Rather than wait for the inevitable official HD version to materialize next week, the crew at TheFilmStage.com were able to grab the trailer from a Canadian newspaper website and posted it up on Vimeo for the world to see… and enjoy!
Like the first official picture of the A-Team cast in full attire, the trailer offers further proof that Carnahan is sticking closely to the original television show's premise and design. The outfits, mannerisms, hair, ladies for Face and a modernized more sophisticated version of over-the-top 80s action makes for what looks like one hell of a fun ride.
The A-Team stars Bradley Cooper as Face, Liam Neeson as Hannibal, Sharlto Copley as Murdock and Quinton 'Rampage' Jackson as B.A. Baracus. Patrick Wilson and Jessica Biel co-star.
Look for The A-Team to blast into theaters on June 11.