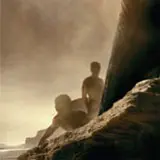 Entertainment Weekly has scooped the movie tie-in book cover for The Twilight Saga: New Moon that strays from previously imagery from either film.
The new cover relegates Rob Pattinson as Edward Cullen into the moon while Taylor Lautner as Jacob Black steals the spotlight bearhugging a submissive Kristen Stewart as Bella Swan.
I have to hand it to the marketing folks on this one. They understand sex sells and with this suggestive cover will probably see thousands of repurchases from Twilighters who cannot resist forking out dough for the upgrade.
Twilight New Moon hits theaters on November 20. In the meantime, be sure to check out a recently released portrait of the Cullen family.