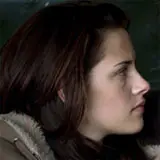 The image below of Kristen Stewart and Taylor Lautner as Bella Swan and Jacob Black, respectively, from The Twilight Saga: New Moon is likely a glimpse into one of two clips that will debut at Comic-Con next week.
In a set visit article with L.A. Times that provides the image, the first details of what Summit Entertainment will be showing at Comic-Con are revealed. One clip will be a "love scene" sure elicit screams that will pierce the ears of every other Comic-Con attendee.
The other clip cranks up the action and will feature some of the 450 special effects shots being worked on for the film. The effects in this sequence are expected to be completed when unveiled to the thousands of screaming fans.
The article goes on to discuss the pressure weighing heavily on director Chris Weitz to put together a winner after the box office flop that was The Golden Compass, amongst other topics. You can read all about it right here, or check out yesterday's Wolf Pack actor on-set image here.