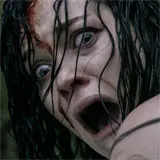 Our SXSW 2013 correspondent Matt Hardeman was stalking Reddit earlier today in order to answer a question that has been swirling around the Evil Dead remake for the past few days. Since the first cut submitted to the MPAA scored an NC-17 rating, will that cut play at the festival?
Matt was able to ask this question directly to Jarod Neece, Senior Program and Operations Manager for SXSW Film. Neece had just confirmed with Screen Gems that there is only one cut of Evil Dead now, the R-rated cut. However, he calls that cut "bay shit crazy!"
Those of you hoping to catch the NC-17 cut at SXSW can now express your disappoint. If Screen Gems said there's only one cut now, it's likely the NC-17 cut will never be seen by the rest of us. I'll hold on to a sliver of hope that the eventual Blu-ray and DVD release will include an alternate NC-17 sku. We all know that would sell like hotcakes.