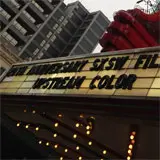 It would be an understatement to simply say that day one of this year's South by Southwest Film Festival in Austin, Texas was anything less than stellar. As much as it's about the films, it's also about the moments. The conversations in line between new friends and old. The anticipation of what comes next. That feeling you get when you find a bar that lets you play the original NBA JAM for free. While the movies are why I'm here, it's the moments that make it all worthwhile.
Speaking of movies, I saw two incredible ones yesterday. Upstream Color indeed lived up to every bit of hype it has garnered and is a movie I definitely need to dwell on to really get down my overall thoughts. It's narrative is disjointed and angular, but at the same time has a simplicity that ties it all together. It demands the viewer's attention, every beautifully shot step of the way. The score is exquisitely haunting and is almost a character all unto its own.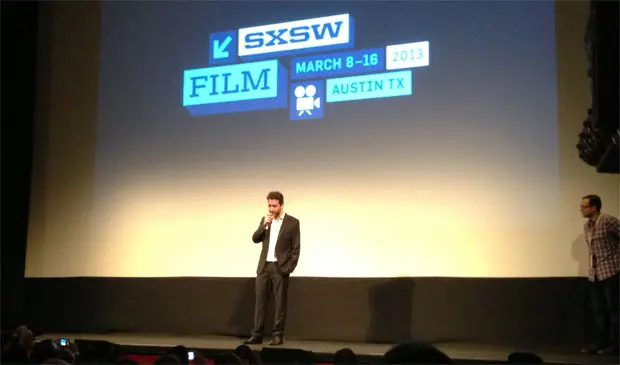 Shortly thereafter was Evil Dead. My full Evil Dead review tells you just about everything I can without giving away the goods, but let me assure you all, especially those on the fence, that this movie is nothing short of incredible. It's fun without being slapsticky, littered with some of the finest practical gore I've ever seen and is overall just a great film. Fede Alvarez shines in his feature length debut behind the camera just as much as Jane Levy does in front of it. Absolutely loved it from beginning to end. I didn't even mind that it running late made me miss V/H/S/2.
Today started off bright and early at 8am with a film I can't talk about just yet, but definitely dug a great deal and look forward to discussing soon. Since then I've been pacing myself with some coffee, breakfast tacos and catching up on some writing. It's going to be a long day and it pays to be sensible every now and again. So sayeth the man that will soon be consuming a chicken and waffle taco from Lucky J's that's every bit as heavenly as it sounds.
The rest of my film going day will kickstart at 4:30 with Prince Avalanche. This is the latest film from director David Gordon Green starring Paul Rudd and Emile Hirsch as two road workers in the summer of 1988 that have left the lives and women behind in pursuit of their work, going at odds with each other along the way. Between Green, who previously directed Pineapple Express and Paul Rudd, who is a national treasure, I'm incredibly excited for this film.
After that will director/screenwriter Joe Swanberg's Drinking Buddies. This film has a stacked cast including Olivia Wilde, Jake Johnson, Anna Kendrick and Ron Livingston. The synopsis of the film is summed up in the line, "you know what makes the line between 'friends' and 'more than friends' really blurry? Beer." tells me all that I need to know. I've got a good feeling about this one.
Day two will wind down to a close with my first Midnighter of the fest, Haunter. Directed by Vincenzo Natali (of Cube fame), Haunter is a sort of reverse ghost story where the dead are haunted by the living, as well as by a cruel fate that's causing Lisa (Abigail Breslin) and her family to constantly relive the day the were all murdered over and over again. Sounds like a lighthearted bit of fun, no?
As I mentioned in my post yesterday, feel free to follow my twitter and instagram accounts @capnnarcolepsy for up to date info, photos and all-around buffoonery. Make sure to follow @TheHDRoom to keep up with all the latest reviews here at SXSW 2013 and at home.