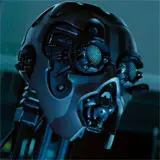 The first trailer for the comic-inspired futuristic sci-fi thriller Surrogates has hit the Internet courtesy of MySpace Movies. Truth be told it looks pretty decent.
Surrogates is helmed by U-571 and Terminator 3: Rise of the Machines director Jonathan Mostow. It stars Bruce Willis and Radha Mitchell, the latter of Pitch Black fame, as investigators working the case of a murdered college student tied to the founder of a company that manufacturers artificial versions of people. Naturally, chaos and action ensue.
Visually the trailer carries many similarities to I, Robot, especially the surrogate robots sans human skin. Watching people "jack in" while their surrogates live life carries a Matrix vibe, while a bunch of robots masquerading as people carries hints of living amongst the Stepford Wives.
Look for Surrogates in theaters on September 25.
> >