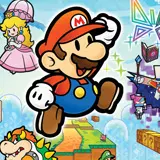 Nintendo has expanded its lineup of Nintendo Selects Wii titles by four as they ramp up for the holiday season, the last in which Wii will be relevant ahead of the Wii U launch next year..
Joining the Nintendo Selects family are Super Mario Galaxy (the original, not the sequel), Super Paper Mario, Mario Strikers and Punch-Out!.
Each new Nintendo Selects Wii game will be priced at $19.99 beginning on Sunday, August 28. You might want to rethink purchasing these if for some reason you were planning to pick one up between now and the end of the month.
Games currently available in the Nintendo Selects collection include The Legend of Zelda: Twilight Princess, Animal Crossing: City Folk, Mario Super Sluggers and Wii Sports.