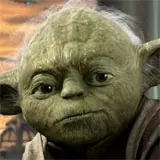 George Lucas is no doubt happy to learn that not even the return of Jar Jar Binks or premature departure of Darth Maul would keep fans from turning out to see Star Wars Episode 1: The Phantom Menace in 3D starring Liam Neeson, Ewan McGregor and Natalie Portman at its midnight opening.
The first test of Lucas' master plan to reissue all fix of his Star Wars films theatrically in 3D is thus far proving to be a successful one. With over a million dollars already in the bank from midnight showings along, the Force should help guide Phantom Menace to an opening weekend north of $20 million.
It's unclear how much Lucas spent on converting Phantom Menace to 3D, but given the cost of other films in the $5 to $10 million range, Phantom Menace should easily earn enough dough for LucasFilm and George Lucas to forge ahead with converting Attack of the Clones to 3D for an early 2013 release.
If George Lucas gets his way, we will be seeing a new 3D versions of a Star Wars film in theaters every year through 2017. Ironically one of the biggest Star Wars licensing deals, Hasbro, ends the year after in 2018.
Battling The Phantom Menace in theaters this weekend is Safe House with Denzel Washington and Ryan Reynolds, and the Valentine's Day-timed The Vow with Channing Tatum and Rachel McAdams.
I bet George Lucas would love nothing more than to see Liam Neeson, one of the Phantom Menace Jedi stars, sit atop the weekend box office charts again right on the heels of the actor's successful Alaskan thriller The Grey.