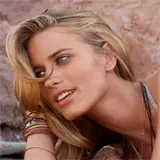 The Sports Illustrated Swimsuit 2011 issue with cover model Irina Shayk was released today to the cheers of men everywhere. As part of its arrival, a video chronicling the issue's creation is potentially heading into your house via an unusual source.
Sports Illustrated and Sony have released 'Swimsuit in 3D' exclusively for Playstation 3 owners via the Playstation Store. A 2D version is also available for the majority of PS3 owners that do not have a 3D setup in their homes.
To take advantage of the 3D version you'll need a PS3 console, a 3D-compatible television, a 3D-compatible a/v receiver and at least one pair of 3D glasses. It's a pricey setup few have taken advantage of yet, but those that have will have the opportunity to see how the latest Swimsuit issue came to be jump out of the screen.
Also available now are 12 hours worth of various Sports Illustrated Swimsuit videos available via the Playstation Store. This will include the official hour-long 'Making of Sports Illustrated Swimsuit 2011' video, four videos that spotlight the shoot's locations, and a 'Making of Sports Illustrated Swimsuit' video. All this content will be available in 2D only.
For those who want to try before they buy, Sony is offering a free three-minute preview of 'Swimsuit in 3D' to anyone with a PS3 console and Playstation Network ID as well as new PS3 themes featuring SI Swimsuit models.