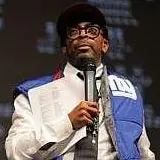 Spike Lee has responded to the enormous backlash following his emotionally charged anti-Hollywood answer to a question by comedian/actor Chris Rock following the screening of Lee's new film, Red Hook Summer.
Rock challenged Lee in the Red Hook Summer q/a session at the Eccles Theater on Sunday with a fairly straightforward question: how would the film have looked if it had been made at a studio? Without missing a beat or suggesting a joke, Rock asked Lee if he would have blown things up.
The question lit a fire under Lee who fired back not at Rock, but at Hollywood and the studios he steered clear of to make Red Hook Summer. Lee suggested "the studios know nothing about black people," and that he would never take notes from a studio head telling him what a 13-year old boy and girl would be doing in Red Hook.
While still hot under the collar, Lee went on to suggest that Universal Studios, who Lee worked on with his most successful film Inside Man, was responsible for squashing plans to move forward on a sequel.
Earlier this morning, Lee talked to the L.A. Times and seemed to take a step back from his remarks. He told them, "I'm not here to condemn Hollywood, even if it may sound like that." His wife, to whom he said was looking at him "like he was crazy" during his tirade, told him afterward he was "defeating the purpose" of the film and to "just talk about the movie" from now on.
The future of Red Hook Summer is currently up in the air. The film about a young Atlanta boy sent to live with his preacher grandpa in Red Hook, Brooklyn, New York whom he has never met currently has no distributor. The Sundance screening on Sunday was the first time anyone outside the production had seen it.
Lee's rant likely didn't put a smile on the face of any potential suitors who attended the screening.