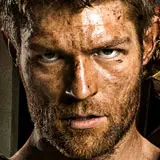 The final season of Spartacus titled Spartacus: War of the Damned Season 3 starring Liam McIntyre, Manu Bennett, Dustin Clare, Dan Feuerriegel, Simon Merrells, Todd Lasance and Cynthia Addai-Robinson has come and gone on Starz. Its next stop is slated for September 3 where a debut on Blu-ray and DVD will occur.
Anchor Bay and series creator Steven S. DeKnight are acknowledging the success of Spartacus and its final season by upping the ante for the Season 3 Blu-ray and DVD release. "We wanted to make the Blu-ray and DVD release reflect our gratitude for their enthusiastic support," said DeKnight in an official statement. "It's packed with bonus features, extended episodes and commentary tracks that add an extra, exciting dimension to the world of Spartacus."
Those bonus features referenced by DeKnight include the following:
Blu-ray Exclusive: Extended Episodes and Audio Commentaries
SPARTACUS: The Legend Retold
The Price Of Being A Gladiator
A Bloody Farewell
The Spoils Of War Revealed: Visual Effects
Adorning The Damned
The Mind Behind SPARTACUS
Anchor Bay is presenting Spartacus: War of the Damned Season 3 on Blu-ray in 1.78:1 1080p video and 5.1 Dolby TrueHD audio in a three-disc set.
Click here to pre-order Spartacus: War of the Damned Season 3 on Blu-ray for $41.99 at Amazon.com, 30% off the $59.99 list price.