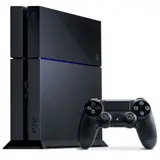 Sony's PlayStation 4 gaming console now has a release date as revealed at today's Gamescom press conference, and it wasn't that hard to figure out when looking back at the company's gaming console launch history.
The PlayStation 3 console was released on a Friday two weeks prior to Black Friday all the way back in 2006, which seems like an eternity ago. It's a date chosen for a variety of marketing reasons, and one that has materialized again as the PS4 release date of November 15 is exactly two Fridays before Black Friday.
The European countries of Australia, Austria, Belgium, Denmark, Finland, France, Germany, Ireland, Italy, Luxembourg, Netherlands, New Zealand, Norway, Poland, Portugal, Russia, Spain, Sweden, Switzerland, and the United Kingdom, and the Latin America countries of Argentina, Brazil, Chile, Colombia, Costa Rica, El Salvador, Guatemala, Mexico, Panama and Peru will have to wait until Black Friday here in the States, November 29, to get their hands on PS4. These territories could be waiting much longer to play Xbox One as Microsoft has signaled that they won't have enough consoles ready to launch in all territories in November.
Sony also revealed that their Twitch partnership will allow players to simply hit the "Share" button on the PS4 DualShock 4 controller to real-time broadcast their gameplay on their Twitch channel for anyone to watch. I would expect this feature to receive a lot of use for the shooter titles such as PS4 exclusive Killzone: Shadow Fall as well as Battlefield 4 and Call of Duty.
To compliment the upcoming launch of PS4, Sony announced earlier today that PS Vita will sell for $199.99 starting immediately, a $50 price drop, and memory cards would also be lowered in price.
Unfortunately online options to pre-order PS4 have now all but completely dried up following the release date news. Best Buy, GameStop and Amazon.com have all sold through their allotment of PS4 consoles. Unless more are made available, the only other option to secure one for launch day will be to call Walmart stores daily for in-store pre-orders, or wait in line the evening of November 14.
According to Sony, over 1 million PS4 consoles have been pre-ordered worldwide, and we're still a little less than three months away from the PS4 release date.