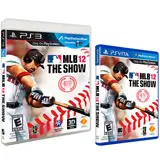 It seemed like a no-brainer when rumors started circulating months ago. Sony should package the complimentary and intertwined Playstation 3 and Playstation Vita versions of MLB 12: The Show together and offer a discount for those willing to take the two-format plunge.
As the countdown to the March 6 release date turned from months to weeks to days, it became clear that Sony wasn't going to offer both games in a single package for launch. Apparently they heard the outcry from fans and are taking a step toward appeasing them.
Today Sony took to their blog and announced that anyone who purchases the PS Vita and PS3 versions of MLB 12: The Show at a "favorite retailer," in a single transaction, will pay $80 instead of the $100 both games would cost if purchased separately. In other words, buy both versions at the same time and save $20 for doing so.
What Sony didn't do that many including myself though they might is offer the PS Vita version at a dramatically discounted price via download with the purchase of the Playstation 3 version. Maybe they ran out of time to add little vouchers with the download code to the PS3 version. Or many we'll see this promotion later on in the year, closer to the World Series. Right now Sony is only willing to shave some bucks when purchasing both physical disc versions of the game.
This MLB 12: The Show discount news is so fresh that no retailers are showing it yet on their websites. I expect the deal to show up at Amazon.com, Best Buy, Target, GameStop, Walmart and Toys R Us at minimum either over the next couple days or right at launch next week.
Watch MLB 12: The Show for the combo purchase $20 off deal at Amazon.com.
Source: PS Blog