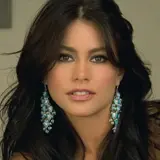 Sofia Vergara is currently in negotiations to play one of the female leads in the Farrelly brothers' The Three Stooges.
Vergara's stock rose almost overnight from her starring role on ABC's Modern Family. The veteran TV actress continues to branch out into features having recently wrapped a human role in The Smurfs film, lent her voice to Happy Feet 2, and co-starred in the sequel to the romantic comedy Valentine's Day, appropriately titled New Year's Eve.
Sean Hayes and Will Sasso have already been locked in as Larry and Curly, respectively. Obviously Vergara would not be playing the vacant role of Moe, nor would she even appear in all three vignettes the film is broken into. According to THR, her character pretends to be the wife of a dieing man and offers the Stooges a sum of cash to ensure the man does not wake up and rat her out. Physically initiated hilarity is bound to ensue.
The dieing man vignette is the second of the three. Details on the first and third vignettes, which Vergara will not appear in, are still being kept under wraps.