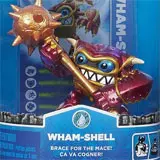 Wham-Shell is hands down the hardest Skylander character to find in stores and, for many Skylanders: Spyro's Adventure owners, the last one included to complete a collection. Could me as one of many whom have been unable to track the little bugger down.
Right now Wham-Shell is IN STOCk at Amazon.com for the retail price of $8.99. He regularly goes for $25 and up on the secondary market so this is a rare chance to pick him up on the cheap.
Grab Wham-Shell before he inevitably sells out again. It's only a matter of time, if not hours or minutes.
Click here to buy the Wham-Shell Skylander for $8.99 at Amazon.com.