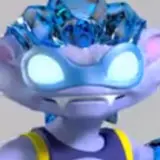 The first trailer for Skylanders Swap Force is a departure for what you're accustomed to seeing from the half-billion dollar franchise. No surprise there considering these figures break in half on purpose, a radical enough departure from the formula that has created a new niche in the gaming industry.
Here are the Swap Force Skylanders that appear in the trailer that we already know about: Wash Buckler (Water), Blast Zone (Fire) and Manga Charge (Tech). New Swap Force Skylanders making their debut in the trailer are Freeze Blade (Water), Night Shift (Undead) and Stink Bomb (Life?). In total we now know the identities of six of the sixteen Swap Force Skylanders.
To make the trailer complete, our favorite goofy villain Kaos has a couple cameos in the trailer. Poor Kaos; the guy can't catch a break.
As part of the Skylanders Swap Force press event this evening, Vicarious Visions has confirmed that there are Swap Force zones in the game that can be access only by Swap Force characters with the corresponding bottom base. It sounds like these zones will work the same as elemental zones, only geared toward the Swap Force Skylanders.
The trailer also confirms that there will be flying zones in the game which cater to the Skylanders with the ability of flight. Blast Zone can be seen flying through rings in the trailer.
Watch the Skylanders Swap Force trailer below with accompanying screen caps of the new characters, and be sure to read the Skylanders Swap Force announcement complete with toy images and screenshots, as well as who the Starter Pack figures are.