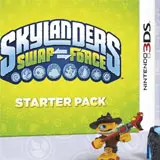 The 3DS versions of the past two Skylanders games have been overshadowed by their more robust console counterparts. That's a shame considering the 3DS versions Skylanders: Spyro's Adventure and Skylanders Giants each included an original story, villain and platform gaming elements not seen on the console versions.
While attending a demonstration for Skylanders Swap Force at E3 this past week, I was able to ask Activision Executive Producer Scott Krager some questions about the 3DS version of the upcoming third Skylanders game that developer n-Space is working diligently on. Of the two questions asked, one received the expected answer and the other did not.
In terms of narrative, Skylanders Swap Force for 3DS will once again feature an original story for new and old Skylanders to partake in, including the Swap Force Skylanders. Including Swap Force swappable combinations, this pushes the playable character roster in several hundred strong.
One of the biggest complaints about the first two Skylanders adventures on 3DS was only being able to store two Skylanders in the game at any one time. If you want to switch to a character that was not one of the two currently loaded, you have to re-sync the Portal of Power with 3DS and replace one of the two Skylanders already on there.
For Swap Force, Activision and n-Sync have heard the cries of fans and implemented a new "swap" mechanic that allows you to load all of the Skylanders you own into the game and then swap them at will without having to sync back up to the Portal of Power. Re-syncing is required to move loot and level power back to the figure for use in the console version, but at least now long road trips won't require hauling along the Portal of Power as well.
Click here to pre-order the Skylanders Swap Force Starter Pack with three figures at Amazon.com.
Skylanders Swap Force for 3DS launches on October 13, 2013 alongside the console versions.