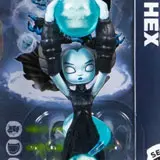 The second wave of Skylanders Giants figures arrived almost as quickly as the first, yet are proving much more difficult to track down in stores – especially as single releases. The all-new character figures in this wave including Flashwing, Sprocket and Hot Head have been especially tricky to find. I have personally only seen them in one stores and they were in three packs.
The rest of the wave's Series 2 figures have also been few and far between, but right now Amazon.com has all of them in stock for the retail price of $9.99. This includes Hex, Bash, Flameslinger, Drill Sergeant, Sonic Boom, Gill Grunt, Stump Smash and Double Trouble.
There is potential for the third wave of figures to arrive in stores prior to Christmas. If that happens then they will become even harder to find than wave 2
You can browse or buy any of the Skylanders Giants figures at Amazon.com by clicking on their hyperlinked names above. Or you can click here to scroll through all of Amazon's Skylanders Giants figures including the first and second waves. They seem fairly plentiful now, but the real rush will come closer to Black Friday and Christmas as parents start scooping them up as gifts.