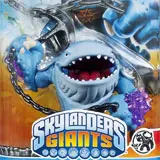 The two hottest Skylanders Giants figures right now are Eye Brawl and Thumpback, the sixth and seventh of eight total Giants figures. Right now they are both in stock at Amazon.com.
Eye Brawl and Thumpback are hot for good reason. For one they came out only recently so the huge embedded base of Skylanders Giants owners are all looking to add them.
They also happen to be, in my opinion, the two best Skylanders figures released thus far. Both are fantastic toy designs and are full of character when you get them going in the day. Eye Brawl's catchphrase when you put him on the Portal of Power is, again in my opinion, the best one yet.
Hurry to grab the Eye Brawl and Thumpback Skylanders Giants figures at Amazon.com before they are out of stock again.
Update: (February 27) Both Thumpback and Eye Brawl are back in stock at Amazon.com for only $14.99 each. Grab them through the links below while they last.
Click here to buy the Thumpback Skylanders Giants figure at Amazon.com
Click here to buy the Eye Brawl Skylanders Giants figure at Amazon.com