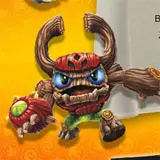 Activision and Frito-Lay have recently kicked off this summer's Skylanders Giants Sidekicks promotion that introduces four new Sidekicks characters into the Skylanders line-up of figures and toys.
From now through October 20, 2013, you can find codes for a free Sidekicks character within specially marked bags of Frito-Lay mix bags of chips. Two mixes are eligible for the promotion: the 20-count classic mix and the 20-count flavor mix.
Once you have a code, you then visit http://skylanderspromo.young-america.com/skylanders-promo-age-validation to enter your birth date, the code and shipping information. Only one set of each Skylander will be sent to a single address, and a $2.50 shipping charge will be applied.
The new Sidekicks are Barkley, Thumpling, Eye-Small and Mini-Jini. We first revealed these figures in an exclusive article last fall and it's glad to see they are almost here.
In addition to the Sidekicks code, each Frito-Lay bag will also include a $1 off any Skylanders Giants toy coupon as well as a coupon that either offers $10 off a Skylanders Swap Force Starter Pack or $5 off a Skylanders Giants Starter Pack.