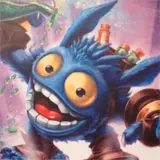 Activision's insanely popular Skylanders are returning this fall in Skylanders Giants. That's not new news, but I have several scoops from the upcoming sequel courtesy of an E3 demonstration performed by the game's Design Producer, Mike Graham of Toys For Bob, and his willingness to answer my barrage of questions.
Characters
There has been some confusion regarding how many new Skylanders are coming with the release of Giants so I wanted to take a moment and set the record straight after clarifying with Toys for Bob. There will be a total of 8 Giants released for the line, all of which will obviously be new. In addition, there will be 8 new standard size Skylanders characters. Of these 16 new Skylanders, 4 have been revealed thus far.
In addition, there will be 8 new "LightCore" Skylanders that light up when you place when near the Portal of Power. These will be split between new characters and returning ones, such as Prism Break, though the exact split is unknown.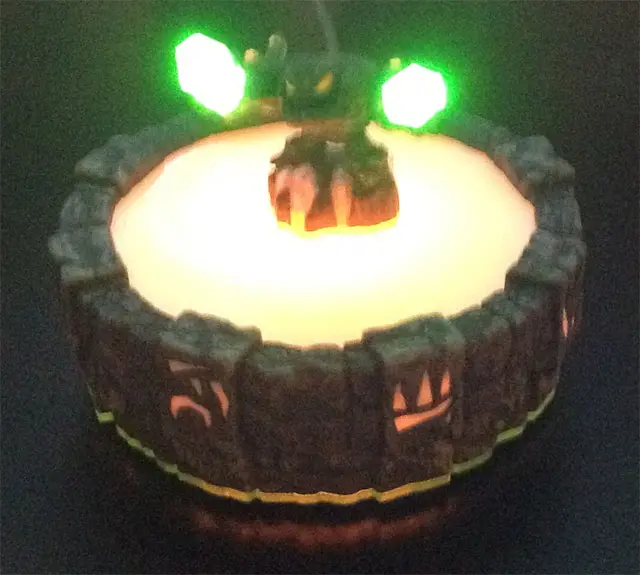 To drive completists nuts, another 24 new figures will comprise what is being referred to as "Series 2." These 24 new figures will be based upon already released Skylanders from Spyro's Adventure and are expected to be Legendary repaints or new sculpts, as already revealed in Cynder and Zook.
Series 2 is mostly geared toward collectors as anyone already owning the previous versions are unlikely to pick up a new one in a different pose. They will also appeal to new Skylanders players who missed out on the first game's release. Anyone who does pick up a Series 2 version of a character they already own will find they work in Spyro's Adventure as well as Giants. See if you can spot some possible Series 2 characters in the new E3 trailer a little further down.
For those of you wondering what might happen if you place a new Giants character on the Portal of Power while Spyro's Adventure is playing, the answer is nothing.
Here are the five new Skylanders from E3: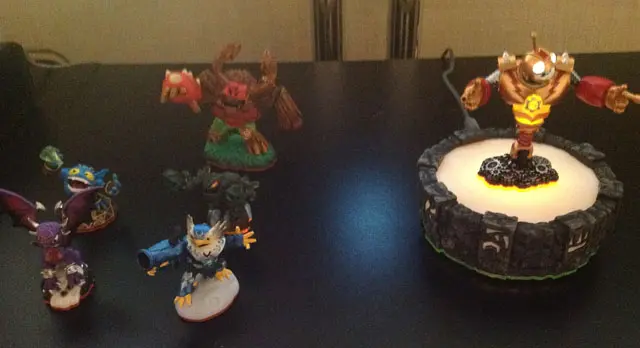 Jet-Vac is the name of the Air Element Skylander who resembles an eagle and first debuted without a name at Toy Fair earlier this year. He carries around a powerful vacuum-like contraption that sucks up anything within its range. The deviousness of this device is evident in coop play where Jet-Vac is able to suck up experience orbs from the other players kills before those orbs naturally float to that player.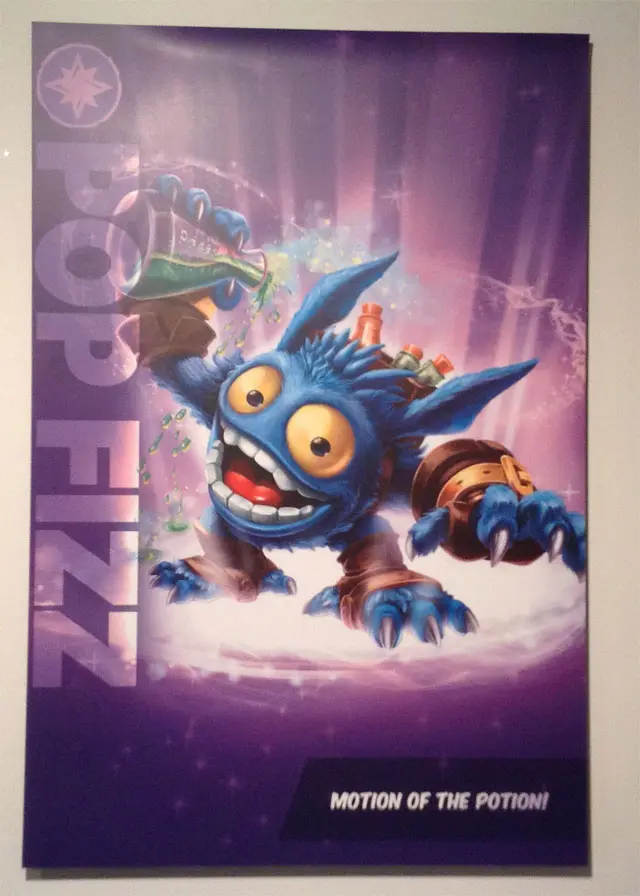 Pop Fizz, a member of the Magic Element, was labeled the "Alchemist" at Toy Fair and now has a much more kid-friendly name. This little guy, who partially resembles Wrecking Ball, carries around a variety of potions that he can hurl at enemies. He is also able to drink the potions and go into a kind of "berserker mode" that makes him become bigger and more aggressive. As a fun little touch, you can violently shake Pop Fizz around and make him temporarily blow up into a cloud of smoke.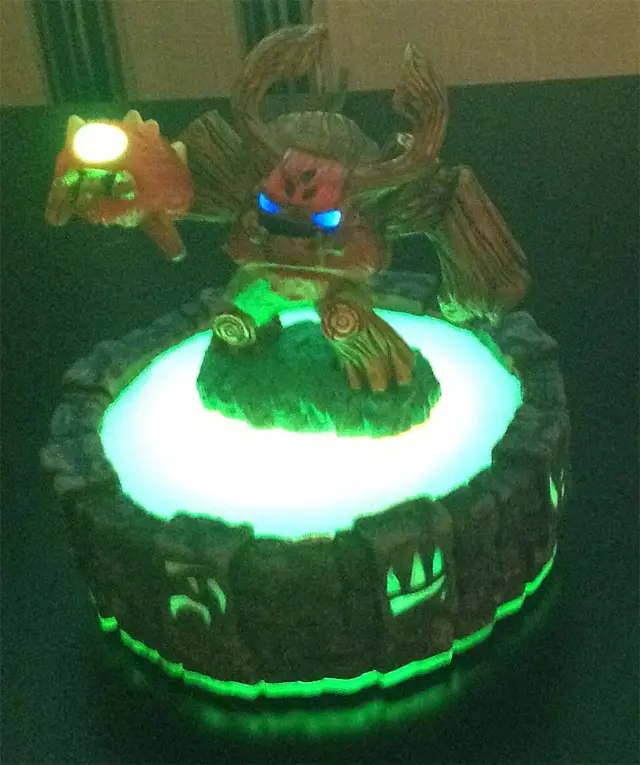 Tree Rex was the first Giant revealed and belongs to the Life Element group. His toy is large and in-game he is able to move around large boulders, breaking into new areas and pull chains to move floating islands around. Other Giants can do this as well, but Tree Rex is the one Activision is using to showcase these features at this time.
Bouncer is one of two "new" Skylander characters revealed for E3. This Tech Element Skylander rides around on a side wheel and looks smaller than Tree Rex in toy form. This size discrepancy was a deliberate design choice by Toys For Bob to add variation to the line. Bouncer has finger cannons and rockets that launch from his shoulders, as well as lasers that fire from his eyes.
Crusher, a Fire Element Giant, was featured on a character banner hanging in Activision's booth but was not available in toy form. He looks to be made of rock and holds a giant hammer.
Level Up
One of the biggest requests for Giants is for Skylanders characters to be able to level up beyond level 10. Toys for Bob has listened to your cries and bumped the max level up to 15. While the ceiling isn't as high as some of you might like, it applies not only to new characters, but every Skylander character released to date.
Gameplay
Those already familiar with Spyro's Adventure will feel right at home in Giants. The regular-sized characters control the exact same way as before, while the Giants are similar but slower and stronger. You can get a good feel for the gameplay in the new trailer below.
Toys For Bob is promising more replayability with Giants compared to Spyro's Adventure. The first reason is you can choose to tackle any area as either a Giant or a regular Skylander with each scale offering a different experience. Areas are designed to be more easily completed with either a Giant or regular Skylander, but that doesn't mean you have to play within any constraints.
The second reason is collectibles are returning in a big way. Story Scrolls are confirmed to be back, but I could not get a confirmation on Soul Gems. There will be other collectibles as well and they will be tucked into a variety of hidden places including inside houses, buildings and caves.
Something called an "Upgradeatron" will also be linked to collectibles, but Toys For Bob wasn't ready to elaborate on exactly how this new feature will work.
Elemental Gates are back though with a slight design tweak that has them dynamically pop up when you get close. The areas behind an Elemental Gate are either small or, new to Giants, extremely large. One example shown of an Undead Elemental Gate area stretched way into the background.
Look for puzzles and locks to return in Giants along with a new game that resembles a tic-tac-toe board. This game requires players to claim as many tiles as possible, but the opponent is able to steal tiles all the same. Unfortunately I wasn't able to see this mini-game in action but Toys For Bob seemed pretty excited about it.
Also returning are Heroic Challenges under the new name of Arena Challenges. Outside Story Mode is a new adversarial mode that requires opponents to try to knock each other out of a ring.
Last but not least, all of the major characters from Spyro's Adventure are returning for Giants along with their voice actors, including Patrick Warburton. This game is a sequel that Toys For Bob confirmed picks up where the original game left off. Kaos is back and he's raising an Arkeyan Army to help take on the Skylanders and seek revenge. Will we get a Kaos toy? My gut suspicion is yes, but there's no concrete evidence of it just yet.
Pricing for Skylanders Giants is as follows:
Regular or Series 2 Skylander Figure: $ 9.99
LightCore Skylander Figure: $11.99
Giants Skylander Figure: $14.99
Giants "Booster Pack" (Game and Single Giant Figure): $59.99
Giants "Starter Pack" (Game, Single Giant Figure, Single Series 2 Figure, Single New Figure, Poster, Three Trading Cards): $74.99
Skylanders Giants is coming to the same platforms as Spyro's Adventure including a separately developed 3DS version. Toys For Bob is also "looking into" a Wii U version, and I would be surprised if it wasn't ready for Nintendo's new console launch this upcoming holiday season.