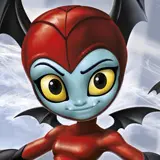 Activision and Frito-Lay have teamed up for the third consecutive summer, only this time there's a lot more at stake than finding a code for an exclusive Skylanders figure in a specially marked bag of snacks.
This new promotion will let fans choose a new Skylander from a selection of three designs to be featured in the upcoming Skylanders 4 game from developer Toys for Bob, due in stores before the end of the year. The winning design will also be named by one lucky fan, and that fan will additionally score a $100,000 scholarship in addition to bragging rights for having named an official Skylander figure that will be immortalized in plastic.
Here's how the promotion works. Starting now and running through March 21, fans 18 years and older can visit www.fritolay.com/skylanders and select which Skylander tickles their fancy. Once the selection is made, a name can be submitted along with a brief 200-character "inspiration" for why the name is chosen.
The second phase of the promotion starts in May and invites fans 13 years old and up to vote for their favorite Skylander from the trio, only this time a winning name chosen by a panel of judges from Frito-Lay and Activision will be attached to each of the three Skylanders. Later this year the Skylander with the most votes will be announced and included in the game, and the winner will get a $100,000 scholarship.
To coincide with promotion, Activision is including $5 off Skylanders Swap Force starter pack coupons inside specially marked packs of Frito-Lay Classic Mix and Flavor Mix 20-count variety packs.
Given the timing of this promotion and artwork created for the three contestants, you have to wonder if each of these new Skylander designs are already in the development version of Skylanders 4.
Click the images below to see a big high resolution version of each Skylander contestant.