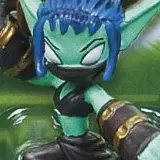 Amazon.com has let Activision's Skylanders invade their 2011 Black Friday week sales and deals promotion and the discounted price has proven to be a big success.
For an unknown limited time, Amazon is selling the Skylanders: Spyro's Adventure Starter Pack for Xbox 360, Playstation 3, Nintendo Wii or 3DS for $49.99. That's the same price other retailers including Target, Toys "R" Us, Walmart and others will be selling them for on Black Friday.
Where Amazon adds some extra incentive in their deal is letting those who purchase the Starter Pack at the sale price also purchase two additional individual Skylanders characters for $10 or $5 each. They normally sell for $8 each, so that's an additional savings of $6 on top of the $20 being saved on the Starter Pack.
I suspect this promotion will vanish by Cyber Monday so if you haven't gotten in on the Skylanders craze yet, this is probably the most economical way to do it prior to Christmas morning.
Click here to shop Amazon's Skylanders: Spyro's Adventure Black Friday 2011 promotion and sale.