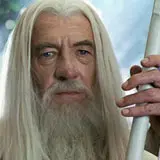 Amid months of rampant Internet speculation, it looks like the grey wizard will don his beard again in Guillermo Del Toro's cinematic adaptation of The Hobbit.
According to an exclusive report at Empire, McKellen is quite enthusiastic about the ambitious and highly anticipated project. He's even openly voiced his approval of Del Toro who is taking the reins of Tolkien's Middle Earth works from Peter Jackson, director and mastermind of New Line's Lord of the Rings Trilogy.
Although at least two years away according to the latest intel, the veteran actor is eager to revisit Middle Earth. So are we.
More Hobbit casting announcements are expected to be made in the months ahead. In the meantime, we'll gladly take a Lord of the Rings Blu-ray announcement to tide us over.
Join the discussion about Ian's role in The Hobbit.