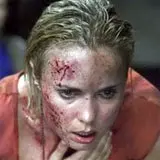 A return trip is in the cards to Silent Hill with news a sequel is moving forward.
Per The Hollywood Reporter, screenwrtier Roger Avary and producer Samuel Hadida, both of whom worked on the 2006 Silent Hill movie, are already on board for the sequel. Their company, Davis Films, aims to begin shooting the sequel next year after Resident Evil 4 wraps.
The original Silent Hill starred Radha Mitchell from Pitch Black and the upcoming Surrogates film. There is no word on whether her character will make a return appearance to the supernaturally possessed town.
Avary is also working on a script for Return to Castle Wolfenstein though no updates on that project are available at this time.