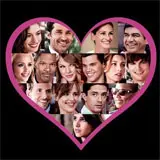 Garry Marshall's Valentine's Day movie is still a few days away from hitting theaters and already news has surfaced suggesting a sequel is not only being discussed, but is already in development.
Deadline Hollywood is reporting Valentine's Day scribe Katherine Fugate is already hard at work on what should become that film's pseudo-sequel, New Year's Eve. A first draft has been handed over to New Line already.
The article also suggests that Gary Marshall will return for New Year's Eve and some of the cast will carry forward for continuity's sake. Take your pick from the massive Valentine's Day cast that includes Jessica Alba, Ashton Kutcher, Julia Roberts, Bradley Cooper, Anne Hathaway, Patrick Dempsey, Taylor Lautner, Jamie Foxx, Jennifer Garner, Topher Grace, Queen Latifah and Emma Roberts.
Valentine's Day… New Year's Eve… see the pattern here? New Line and Warner Bros. are setting up what could become an annual tradition, throwing together a huge ensemble cast with love as the anchor and a holiday as the name. Factor in international holidays and the possibilities are near endless.
That is, unless Valentine's Day flops. After Dear John just scored over $30 million its opening weekend, Valentine's Day has the potential to make up its $50 million budget in well less than a week. A flop would be even more startling than how quickly Dear John shot out the gate.