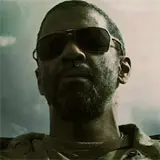 Warner Bros. Pictures debuted The Book of Eli starring Denzel Washington at Comic-Con last week and has now delivered the official first trailer online for everyone to enjoy.
In addition to Denzel, The Book of Eli stars The Dark Knight's Gary Oldman, Mila Kunis from The Family Guy, Ray Stevenson, Michael Gambon, Evan Jones and Jennifer Beals.
The official synopsis reads: Denzel stars as a lone warrior named Eli, who fights his way across the desolate wasteland of near-future America to realize his destiny and deliver the knowledge that can bring civilization back from the brink of destruction and save the future of humanity.
Watch the Mad Max-esque trailer below with a link to jump over to Apple Trailers for the high definition immediately afterward.