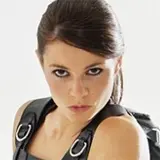 Eidos Interactive has released a new behind-the-scenes video following gymnast and new fanboy fantasy Alison Carroll as she trains and shoots publicity footage for Tomb Raider Underworld.
There's no denying Alison embodies Lara's physical and personality traits: she's strong, agile and projects a British attitude our dear Lara is known for.
Alison is taking the assignment of Lara Croft quite seriously as the video below demonstrates. From flying face-first leaps to underwater shooting, she's going all out to promote the latest Tomb Raider adventure.
Look for Tomb Raider Underworld on Playstation 3, Xbox 360, Nintendo Wii, PC, Playstation 2, PSP and the DS on November 18.