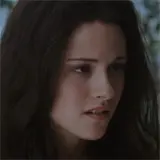 Summit Entertainment has released a 10-second teaser for The Twilight Saga: Eclipse trailer that will be appearing in front of Remember Me with Robert Pattinson this Friday.
Rather than wait until next week to release the Twilight Eclipse trailer online, Summit will be rolling it out tomorrow morning at 6am PST before it debuts in theaters. We'll pass it along as soon as it hits the web.
The Twilight Saga: Eclipse with Pattinson, Kristen Stewart and Taylor Lautner arrives in theaters on June 30.