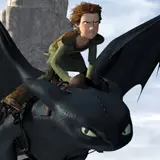 Dreamworks Animation has released a second full trailer for their latest feature film, How to Train Your Dragon.
This new trailer digs a little deeper into the plot than the first and explains why training a dragon is such a big deal. They are misunderstood beasts, you see, and can be valuable allies in battle.
How to Train Your Dragon stars the voices of Gerard Butler, America Ferrera, Jonah Hill, Jay Baruchel and Craig Ferguson. It flies into theaters on March 26 in traditional and 3D formats.