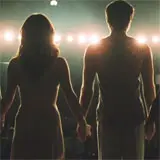 How many Fame remakes would I have to endure if I wanted to live forever? Far too many, to be sure. Whether requested or not, the first one is almost here.
The second theatrical trailer for director Kevin Tancharoen's Fame modernization has hit the Internet and predictably looks like an updated version of the original. Listen closely to the beginning and you'll hear a reworked — for better or worse — theme song. I prefer the old version.
Fame stars Kherington Payne, Anna Maria Perez de Tagle, Paul McGill, Asher Book and Kelsey Grammer. It will dance, rap, sing and perform its way into theaters on September 25.
Head on over to Yahoo! Movies to view the new or first Fame trailer in high definition.