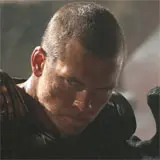 New high resolution versions of the first official images from Clash of the Titans that first appeared at Entertainment Weekly and Empire Magazine have hit the web via Slashfilm. You can click either picture below to enlarge to full size.
Both images depict Sam Worthington as Perseus, born a god but raised and living among mortal men. Sam, whose performance in Terminator Salvation was the most memorable aspect of an other dreary and uneventful film, will next be seen as the lead in James Cameron's much-hyped Avatar.
Entertainment Weekly asked Worthington about the new Perseus to which he replied, "He's Charles Bronson in Death Wish. That's how I'm playing him." And when asked about the unavoidable skirt Sam responded, "We're trying to make it as manly as possible."
Other major Clash of the Titan roles include Ralph Fiennes as Perseus' nemesis Hades, Liam Neeson portraying the god Zeus from whom Hades seeks to overthrow, and Alexa Davalos from Defiance as princess Andromeda.
Warner Bros. Pictures will release Clash of the Titans on March 26, 2010.