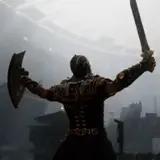 Microsoft is building up momentum heading into the Xbox One launch this Friday. Earlier today they released a Dead Rising 3 launch trailer, and that is now complimented by a Ryse: Son of Rome launch trailer co-starring a massive and slightly enraged mammoth.
Cinematic realism is the name of the game in Ryse: Son of Rome, and that shines through in this launch trailer that offers new glimpses into the game's brutal combat set during ancient Rome. This isn't 300: The Video Game, but the trailer certainly brings back some memories from that Zack Snyder film.
The jury is still out on how well Ryse's combat system holds up over the course of an entire game. Those concerns will finally be addressed when Ryse: Son of Rome arrives on Xbox One this Friday.
Here's the official blurb from Microsoft and developer Crytek on Ryse: Son of Rome:
Ryse: Son of Rome follows Marius Titus, a fearless Roman soldier tasked with defending Rome from the growing threat of invading barbarian tribes, who he has sworn vengeance against for murdering his family. However, in order to save Rome and achieve his personal retribution, he must confront not only the savage hordes, but also the corruption that has poisoned the empire he has sworn to protect.

In addition to a gripping tale of revenge, Ryse: Son of Rome also features Gladiator mode. Step into the iconic Colosseum of Rome and battle, either solo or alongside a fellow gladiator on Xbox Live, for fame, fortune and the adoration of the crowd. Earn gold to purchase new weapons, armor and in-game items, and forge your legacy in blood and steel upon the sands of the arena.
Click here to pre-order Ryse: Son of Rome Day One Edition for Xbox One at Amazon.com, while supplies last.