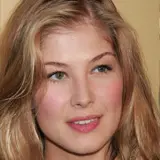 Rosamund Pike is stepping in to take on the female lead role of Andromeda in Wrath of the Titans aka Clash of the Titans 2 per a report at Deadline.
Pike would be filling the shoes of Alexa Davalos who was not available to work on the Clash of the Titans sequel. A new director is on board as well with Battle: Los Angeles' Jonathan Liebesman taking over for Louis Leterrier.
Returning cast members include Liam Neeson as Zeus, Sam Worthington as Perseus, Danny Huston as Poseidon, and a second Bond girl alumnus in Gemma Arterton as Io.
Once the deal is done (it's reportedly in final negotiations), Pike will be officially off the table for a female lead in Zack Snyder's Superman reboot film. Both Warner Bros. productions will be shooting this year for a 2012 release.