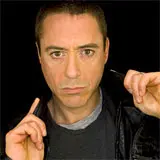 Variety.com is reporting Robert Downey Jr. has inked a deal to star in Guy Ritchie's adaptation of Sherlock Holmes.
Downey Jr will play the master Scotland Yard sleuth with filming to begin this October. Casting for Watson and other characters has yet to be completed and/or announced.
A script re-write by Anthony Peckham who penned the Assassin is what lured Downey Jr. to the role. Apparently this version of Holmes will be a cross between a genius as he's often portrayed and a muscular crime fighter as seen in the Sherlock Holmes comic book.
Guy Ritchie's Sherlock Holmes project is not to be confused with Judd Apatow's comedic tale on the legendary characters. Apatow is set to produce Sacha Baron Cohen and Will Ferrell as Holmes and Dr. Watson, respectively. With Downey's casting and an October start date, Ritchie's Sherlock Holmes will be the first out the gate.
For Robert Downey Jr., Sherlock Holmes will be his first role since reinvigorating his career as Tony Stark in Iron Man.