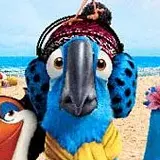 Rio, the new animated film from Fox, rode the back of strong overseas numbers from the past week to earn $10.2 million in its North America box office debut on Friday. The family-friendly film is expected to pick up the pace through Saturday and Sunday as families turn out in droves for matinee showings. By Sunday's close of business, Rio should finish its opening weekend somewhere between $35 and $40 million.
While Rio's opening day is considered at-or-above expectations, it has become part of an ongoing trend where last year's box office business is lagging behind this year's. How to Train Your Dragon opened on this weekend last year to $12.1 million on Friday and $43.7 million through the weekend, roughly 20% higher than where Rio is pacing.
Debuting in second place on Friday was The Weinstein Co.'s slasher Scream 4 with $8.3 million. The fourth film in the ongoing series, and first since the original to reunite Wes Craven, Kevin Williamson and the core cast of Courtney Cox, David Arquette and Neve Campbell, Scream 4 expected to drop through the weekend and could finish the weekend below expectations somewhere in the neighborhood of $18 to $20 million.
For comparison's sake, Scream 3's opening day haul was a hefty $13.3 million back on February 4, 2000. It ended up earning $34.7 million through its opening weekend. Scream 4 will likely perform strong on Blu-ray and DVD, though.
Hop, as expected, took several steps back at the box office with the arrival of Rio. It earned $2.3 million, good enough for second place, but will need a big uptick on Saturday and Sunday to touch $10 million for the three-day frame.
Check back Sunday afternoon for the complete weekend box office studio estimates to see how high Rio flew and how low Scream 4 sank.