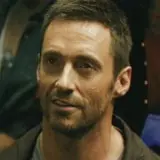 Real Steel landed a knockout blow at the box office this past weekend, powered by Hugh Jackman and his oversized metallic boxing co-stars. It easily topped the weekend's other newcomer, George Clooney's The Ides of March, over a rather sedate Columbus Day holiday weekend.
With most holdovers experiencing mild-to-weak drops from the previous weekend, the October box office continued to slide from a record September haul. While the top ten was up 3.3% from last year's Columbus Day weekend top ten, it was down 3.3% from one week ago at this time.
Based on a story by Richard Matheson, which was first adapted as an episode for the original Twilight Zone television series, Real Steel landed on 3,440 screens (roughly 300 of them IMAX) to earn an estimated $27 million in its first three days. The film, extensively promoted by distributor Disney/Dreamworks, was better received by the public (who gave the movie a solid 'A' CinemaScore rating) than it was the nation's critics (who gave it a so-so 59% approval rating on Rotten Tomatoes), which could help it expand upon its opening weekend success. It stars Hugh Jackman, newcomer Dakota Goyo, Anthony Mackie and Evangeline Lilly in a story about a washed-up boxer who gets a second chance at glory through a fighting robot he created.
In second place was Sony's new political drama The Ides of March, which opened mildly with a $10.5 million estimated gross from 2,199 screens. Based on the stage place Farragut North by Beau Millimon, Ides of March, and directed by George Clooney (who also stars in the movie), March is the story of an young campaign secretary (Ryan Gosling) who finds himself at the center of a political scandal that involves his candidate (Clooney). The film co-stars Philip Seymour-Hoffman, Evan Rachel Wood and Marisa Tomei. The received a solid critical reception (82% on Rotten Tomatoes) but indifference from audiences who gave the movie a so-so 'B' CinemaScore rating, which may spell a rocky road for the picture in the weeks ahead.
After rising to the top last weekend, Warners' family hit Dolphin Tale eased back to third place in its third weekend while losing 34% of its audience. Still on 3,478 screens, the amphibian drama earned an estimated $9.4 million to bring its 17-day total to the $49 million mark. The film could swim its way to the $70 million mark by the end of its run.
Another film showing decent legs is the Brad Pitt baseball flick Moneyball. In its third weekend, the critically-acclaimed sports film earned $7.5 million from 3,018 screens. Off 37% from last weekend, Moneyball has also earned $49 million after seventeen days and could also be looking at a $65-70 million final payday.
Despite having a so-so opening, Summit's 50/50 benefited from positive viewer word-of-mouth in its sophomore session. Off 36%, the Joseph Gordon-Levitt comedy/drama earned $5.5 million on 2,479 theaters to bring its 10-day take to the $17.3 million. The film could finish its run with approximately $30 million in the bank.
Sony's faith-based drama Courageous lost half of its opening-weekend box office in its second round but still managed to have the best per-screen average in the top ten of any holdover film. Holding on 1,161 screens, Courageous earned $4.6 million in its second round to bring its total to the $17.4 million. A $25-27 million final tally is reachable.
Now that it has gone on to Blu-ray domination, Disney's 3D reissue lost most of its punch despite holding onto 2,267 screens. Off 57%, Simba grabbed $4.5 million in leftover cinematic scraps to bring the reissue's overall total to the $86 million mark. The film should call it a day with roughly $92 million in sales. Should it grab roughly $7-10 million more in ticket sales, it will move past the studio's Pirates of the Caribbean: Dead Man's Chest on the top ten all-time domestic earners.
Rounding out the top ten were three recent duds. Universal's Dream House landed in eighth place with $4.462 million (-45% from last weekend) and $14.5 million to date. Fox's What's Your Number? wound up in ninth with $3 million (-44%) and a $10 million overall total, while Lionsgate's Taylor Lautner vehicle Abduction dropped 48% to $2.9 million and a new total of $23.3 million.
Next weekend, Real Steel will face competition from a variety of studios and genres. Fox will release the Steve Martin comedy The Big Year, while Paramount will unleash their update of the 1984 movie Footloose. Universal is finally releasing its prequel to 1982's The Thing titled, no joke, The Thing. Bet that naming decision took them minutes to come up with.
– Shawn Fitzgerald