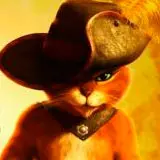 Paramount/Dreamworks' animated hit comedy Puss In Boots displayed a terrific hold in its second go around to stay at the top of the North American box office. The hit film pushed the Ben Stiller and Eddie Murphy action comedy Tower Heist to a decent second place opening, while few found themselves in the Christmas spirit as evidenced by the weak third place opening of A Very Harold and Kumar Christmas in 3D. Overall, the box office dropped a big 30% from last year at this time when Megamind landed on the scene to the tune of a $46 million opening weekend.
Benefiting from strong word-of-mouth from film goers, in particular the crucial family crowd, Puss in Boots barely dropped from its opening weekend numbers in its second round. Off a tiny 3%, the 3D comedy earned an estimated $33.1 million on 3,963 screens to bring its ten-day total to a very healthy $76 million. The film should continue to have financial success for the next two weeks, when four big family flicks (Happy Feet 2, The Muppets, Arthur Christmas and Hugo) begin to arrive for the lucrative Thanksgiving holiday weekend. Should the film continue to draw viewers in big numbers, Puss in Boots could purr its way to the $175 million mark by the end of its run.
Bowing in second place was the Universal action comedy Tower Heist, which debuted with a decent $25.1 million from 3,367 theaters. Brett Ratner's (Rush Hour) latest received a decent critical approval rating on Rotten Tomatoes (69% approval) and a 'B' rating from ticket buyers via CinemaScore exit polls. The film opened at number one on Friday but quickly abdicated the throne from Puss in Boots on Saturday when that film's grosses surged by nearly 50%.
The Stiller/Murphy pairing ran into a little bit of controversy earlier this fall when the parent company of Universal Pictures, Comcast, stated that the movie would be available day-and-date with its theatrical release on their On Demand service (for the tidy price of $60!). Understandably, movie chains were less than thrilled with that move and threatened to not show the movie at their theaters if the cable giant continued with its plan.
We just finished with Halloween and have yet to firm our plans for the Thanksgiving holiday. Yet, we have our first Christmas movie already in theaters. A Very Harold and Kumar Christmas in 3D arrived on the scene this weekend in 2,875 theaters but could only manage a weak $13.3 million in sales. The R-rated holiday raunch-fest that reunites stars Kal Penn and John Cho earned some surprisingly solid reviews from critics (72% approval rating on Rotten Tomatoes) and a 'B' rating from ticket buyers via CinemaScore. On the plus side for Warner Brothers, the film's distributors, 95% of the weekend sales came from 3D screenings.
The original Harold and Kumar Go To White Castle earned $18 million in ticket sales en route to a big payday on home video. The second film, Harold and Kumar Go to Guantanamo Bay earned $38 million in ticket sales. If word-of-mouth among the series' targeted audience (young males under 25), Christmas might be able to top both of those entries. Whether it lasts until the actual Christmas holiday is anyone's guess.
In fourth place with another huge drop was Paramount's low-tech, low-budget horror hit Paranormal Activity 3. The film earned an estimated $8.5 million from 3,286 theaters in its third weekend to land in fourth place. To date, the movie has earned $95 million and should cross the $100 million mark next week. It is also on course to become the highest grossing of the series domestically within the next few weeks.
After bowing weakly last weekend, the Justin Timberlake sci-fi flick In Time held up better than anticipated in its sophomore session. Off a moderate 38%, the Andrew Niccol-directed feature earned an estimated $7.7 million to land in fifth place. To date, the movie has earned $24.5 million and may reach $35-40 million by the end of its run.
Paramount's Footloose remake sashayed its way to sixth place with $4.5 million and a new to date total of approximately $48 million. Watch for the film to finish with a decent $55 million final take. In seventh was Disney's Real Steel with an estimated $3.5 million to bring its total to the $79 million mark. Eighth place went to the Johnny Depp dud The Rum Diaries with $2.9 million and a weak ten-day total of $10 million dollars. The film may finish its run around the $16 million mark.
Rounding out the top ten were two Sony flicks. The Ides of March landed in ninth with $2 million to bring its total to the $37 million mark, while Moneyball earned an estimated $1.9 million in late box office innings to bring its total past the $70 million mark.
Next weekend, Warner will debut the Clint Eastwood historical drama J. Edgar starring Leonardo DiCaprio, Relativity will open their fantasy epic Immortals, and Sony will unleash upon the world the Adam Sandler flick Jack and Jill.
– Shawn Fitzgerald