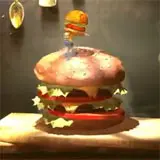 Imagine playing LittleBigPlanet with its vibrant world and colorful characters. Now imagine a game that can compete with LittleBigPlanet visually and take the animation into a more dynamic realm. Meet the upcoming Playstation 3 exclusive Puppeteer.
Sony has just released the all-new Tokyo Game Show Puppeteer trailer following the game's unveiling at Gamescom not too long ago. This trailer delves into the adventures of Kutaro, the game's protagonist who lost his wooden head but lives on thanks to a special pair of magical scissors. You will meet some of the villains Kutaro will face off against and visit some of the wonderful levels he will have to progress through.
Puppeteer is a dark fairytale that is wholly original and, thus far, looks fantastic running on Playstation 3. The magic puppet theater is full of life and dynamic moving elements. Thanks to this trailer, Puppeteer has moved into must-own territory for me.