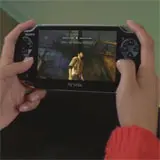 Today is a big day for gamers and Sony as the Playstation Vita, Sony's next-generation handheld gaming device, is now available in stores everywhere.
There is a lot to like about PS Vita, from its OLED screen to front and back touch controls, to the launch titles including one of Sony's biggest exclusive franchises, Uncharted. The Wi-Fi version isn't cheap at $250 a pop, but there's a lot this little device can do at that price.
Sony wants a successful launch here in North America and to help support the launch, they have put together some b-roll footage of PS Vita games and the device itself in action. The original video was massive in size so I broke it down into three more manageable segments that you can watch below.
Up first we have some b-roll footage of Uncharted: Golden Abyss, as well as some lifestyle footage of the PS Vita's front and back touch controls in use.
The second video offers b-roll footage from MLB 12 The Show (without volume), wipEout 2048, Unit 13 and Little Deviants.
The last video features John Koller, Senior Director, Playstation Handheld Consoles, talks about how the PS Vita was conceived 3 to 4 years ago to target the core gamer. He walks through the system's features with a brief demonstration. Then in addressing the system's less-than-enthusiastic Japan launch, he expresses his confidence in the U.S. launch and reiterates that PS Vita is a must-own gaming device for the core gamer.