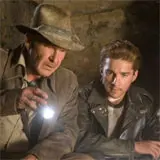 The fifth Indiana Jones film has been suspended in a murky development haze ever since Kingdom of the Crystal Skull hit theaters. Stars Harrison Ford and Shia LaBeouf have both publicly commented about ideas that Steven Spielberg and George Lucas were hashing out, but nothing definitive has been shared.
The latest cog in the Indiana Jones 5 rumor wheel comes from Music Rooms who cites an unnamed source with direct quotes. This source claims shooting will commence in 2011 with a plot revolving around the mysteries of the Bermuda Triangle that concludes the Indiana Jones series.
"George (Lucas) and Steven (Spielberg) have been working on a script and it's almost there," the source said. "Harrison is on stand-by for filming next year. This looks like being an emotional and exciting conclusion to the franchise, with Indy facing his biggest challenge yet."
"Shia LaBeouf has a central role again as Indy's son but this will be a blockbuster made in the old fashioned way rather than the CGI efforts of the last movie," the source added, much to the delight of pretty much everyone who sat through Crystal Skull.
Right now I having a hard time buying into this rumor which reads more like fanboy fiction than fact. It's way too early for Spielberg or Lucas to be spouting off about concluding the franchise, much less profess to anyone that they're going old school with the shooting style. Not to mention the fact that Lucas and Spielberg have always developed the stories and handed off the script writing duties to someone else. With the other projects Spielberg has going on as a director (The Adventures of Tintin: The Secret of the Unicorn) or producer (Cowboys & Aliens, Transformers 3, I Am Number Four), does he really have time to sit down and write a script? I think not.
Taking Indy and Mutt to the Bermuda Triangle is an intriguing idea and I'll be the first to eat crow if it pans out to be accurate.